As melhores séries de 2014
O nosso top de melhores séries deste ano.
Depois das nossas listas de melhores álbuns nacionais e internacionais e dos nossos concertos favoritos, decidimos eleger as séries que pensamos que se destacaram mais este ano e aqui ficam elas.
American Horror Story
A série voltou este ano e tal como é habitual, com um tema novo. Desta vez o tema foi "Freak Show" e a história passa-se num circo. As personagens foram inspiradas em pessoas reais, e estão todas neste circo porque têm diferenças particulares das pessoas normais, digamos assim. É mais uma boa temporada da série, e gostamos que o tema mude em cada temporada. Contudo, Ryan Murphy disse que as temporadas estão todas ligadas, e já se viu um pouco disso no último episódio com a história de Pepper e isso significa alguma coisa. Apenas temos de esperar para ver como está tudo interligado.
Arrow
Arrow continua a surpreender e a ser uma série que deve estar em todas as watch lists. Nesta temporada, Oliver Queen continuou a combater o crime na sua cidade natal com os seus parceiros habituais, e também entrou num episódio de The Flash (spin-off de Arrow). Oliver também andou a tentar combater os seus sentimentos por Felicity o que não correu lá muito bem. Depois do último episódio, sinceramente, não sabemos o que esperar e perguntamo-nos: será que o Oliver morreu ou não? E o que acontecerá a seguir? Bem, temos mesmo de esperar por 2015 para sabermos.
Brookyln Nine-Nine
A série de comédia sobre polícias continua a fazer-nos rir seja com as piadas de Jake Peralta, a cara séria do Captain Holt ou o desejo de trabalho de Amy Santiago. Brooklyn Nine-Nine é uma louvada de ar fresco porque não há muitas séries sobre polícias em que façam piadas sobre os mesmos. E cada episódio tem 20 minutos, ou seja, dá ainda mais vontade de ver porque não se perde tanto tempo como noutras séries e quem é que não gosta de se rir um bocado?
Da Vinci's Demons
Uma surpresa perfeita que surgiu o ano passado, em meados de Abril, Da Vinci's Demons continua a encantar e a reunir cada vez mais fãs. Para uma de nós, foi amor à primeira vista! A série retrata a vida de Leonardo Da Vinci durante a sua juventude, de um modo genial. Acrescenta ainda ficção... e da boa! O jovem Leonardo habita em Florença, berço da arte, onde é engenheiro ao serviço do seu governador, Lorenzo De Medici. Um dia, o nosso artista e insaciante procurador do conhecimento, é abordado por um turco que lhe fala acerca do livro do conhecimento total. Com a ajuda dos seus amigos, este parte numa aventura mágica para encontrar o livro, aventura a qual lhe confere novos inimigos e perigos, por vezes, mortais. A nova temporada estreará em Março de 2015, e mal podemos esperar para ver o que nos espera. Segundo o que o Tom Riley nos disse este ano na Comic Con Portugal, "nobody is save".
Doctor Who
É das séries mais velhas que ainda são transmitidas e conseguem continuar a marcar várias gerações, ao longo dos anos. Doctor Who fez este ano 51 anos, e não tem fim marcado, para nossa felicidade. Uma série que continua em total crescimento, esta série já tem a 9ª temporada marcada, da nova guarda, e conta com Peter Capaldi para interpretar a décima segunda regeneração do nosso senhor do tempo preferido, o Doctor. Clara Oswald, a rapariga impossível, é de momento a companheira do destemido Doctor e interpretada pela bela Jenna Coleman. A data desta 9ª temporada ainda não é conhecida, mas com certeza sairá em 2015.
Game Of Thrones
Fenómeno mundial, esta série desde os primeiros episódios que marcou bem o terreno e deu logo a entender que não era mais uma série. Inspirada nos livros do génio George R. R. Martin, "A Song Of Ice And Fire", a série conta as histórias dos Sete Reinos de Westeros, onde várias famílias lutam desenfreadamente, pela possessão do Trono de Ferro de Westeros. Isto sem nunca esquecer, os perigos que se enfrentam para além da Muralha. A quinta temporada ainda não tem data de estreia definida, mas irá estrear na Primavera de 2015. Antes disso, iremos ter direito a um mimo. Um especial da série irá sair dia 8 de Fevereiro, e apelida-se de "Game Of Thrones: A Day In The Life".
As aventuras do serial killer, Hannibal Lecter, continuam a surpreender e a última temporada foram surpresas atrás de surpresas. O mistério da história, as belas imagens construídas ao longo dos episódios e a representação dos atores principalmente de Mads Mikkelsen e Hugh Dancy fizeram desta uma ótima temporada
.
How to Get Away With Murder
A série estreou este ano, mas já ganhou muitos seguidores. Viola Davis faz um papel fantástico e depois de vermos o último episódio sabemos que os próximos prometem bastante.
My Mad Fat Diary
As aventuras do grupo de Rae continuaram a dar que falar. Nesta temporada, Rae entrou na faculdade, ganhou uma irmã mais nova e superou alguns dos seus medos.
The Originals

Um spin-off da série The Vampire Diaries, esta tem conseguido deixar a sua própria marca. The Originals relata a vida da família Mikaelson, a família mais perigosa e excitante que já passou por Mystic Falls. A história gira à volta da família, quando esta decide voltar para New Orleans, a sua cidade de origem, mas cedo descobrem que esta já não é o que era e que nela habitam agora males piores dos que pensavam... Vale a pena dar uma vista de olhos. A série actualmente encontra-se em hiatus e tem regresso previsto para dia 15 de Janeiro.



The Vampire Diaries
The Vampire Diaries já é uma série muito bem conhecida mundialmente e tem uma massa enorme de fãs pelo mundo inteiro. A sexta temporada saiu este ano, em Setembro e, embora os primeiros episódios não tivessem convencido, mais para a frente a série voltou a impressionar. The Vampire Diaries conta a história de uma jovem humana, Elena Gilbert, que conhece um jovem misterioso, Stefan Salvatore. Mais tarde ela descobre que ele e o seu irmão, Damon Salvatore, são vampiros. A série conta os dramas, perigos e desencantos que os personagens vivem neste mundo sobrenatural, repleto de magia, lobisomens e vampiros. Claro, se o spin-off vale a pena ver, esta fantástica série também. A série actualmente encontra-se em hiatus mas tem regresso marcado para dia 22 de Janeiro.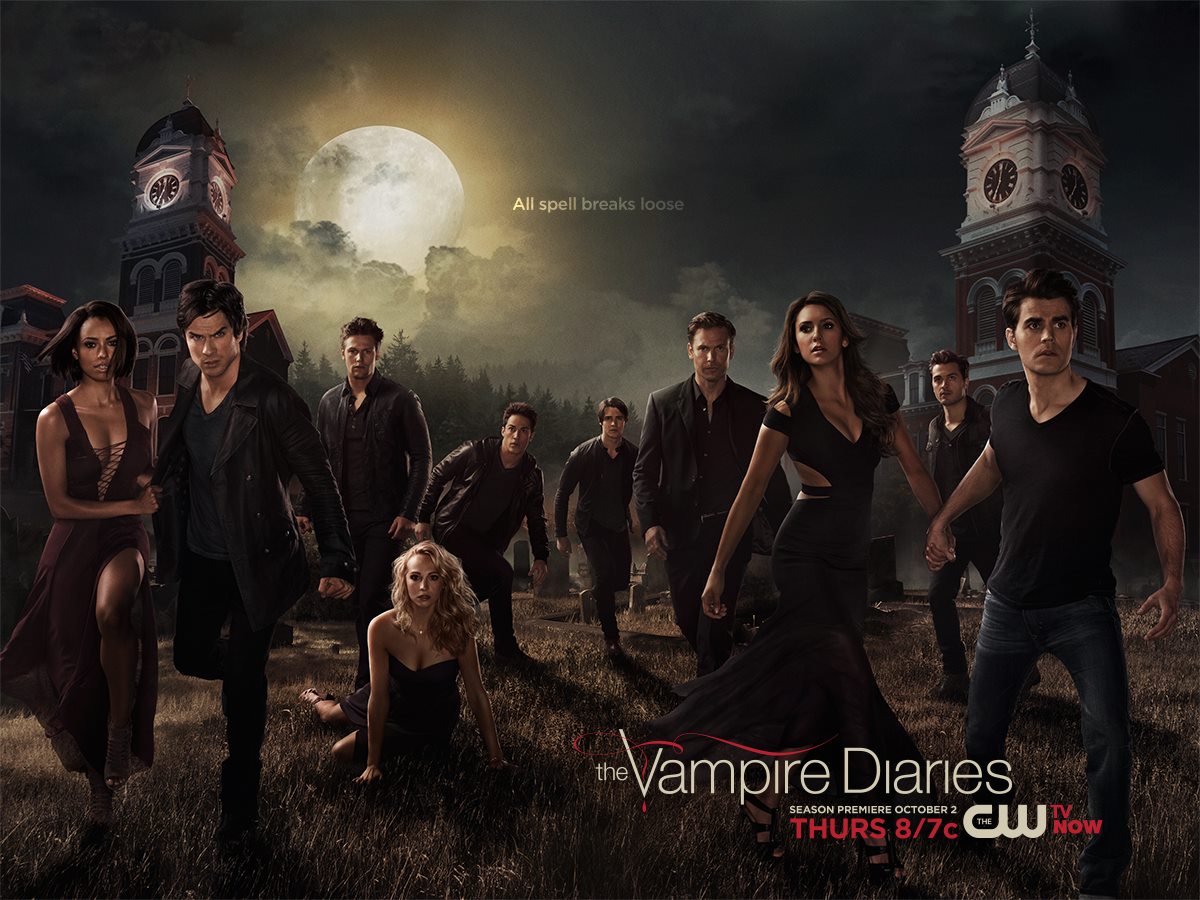 Teen Wolf
Teen Wolf é uma série que fala acerca de Scott McCall, um jovem que é mordido por um lobo e cedo descobre que a mordida que possui não é uma mera mordida. Com a ajuda do seu melhor amigo, Stiles Stilinski, estes descobrem que Scott deixou de ser um mero adolescente, para passar a ser um lobisomen. A série mostra-nos a vida deste pequeno lobisomen e do mundo e perigos que agora o rodeiam. Teen Wolf tem uma quantidade considerável de fãs, e é outra série mundialmente adorada. Esta série foi renovada para a 5ª temporada que ainda não tem data de estreia, mas sabe-se que será algures em 2015.

The Walking Dead
The Walking Dead é a série que arrasta marés de fãs, e à medida que o tempo passa só tende a ganhar mais fãs. A série relata a história de um grupo que vive num mundo que foi habitado e infectado por um vírus que transforma as pessoas em... mortos-vivos, walkers. O grupo é obrigado então a aprender a matar estas criaturas para assim sobreviver neste novo mundo, cheio de peripécias. É uma história de sobrevivência, que muitas vezes se torna emocional devido ao cariz de determinadas cenas. A série é excelente, e prova disso é o destaque mundial de possui. A série vai na 5ª temporada, e a primeira parte desta terminou no passado dia 30 de Novembro. A segunda parte desta 5ª temporada irá estrear no dia 8 de Fevereiro de 2015.

Sherlock Holmes
Sherlock Holmes conta com a participação dos charmosos Benedict Cumberbatch, no papel de Sherlock, e Martin Freeman, no papel de John Watson. Como é certo e sabido por todos, Sherlock Holmes é conhecido por investigar crimes e é mesmo disso que a série trata. Sherlock Holmes e John Watson investigam e solucionam vários crimes que lhes são apresentados, da maneira mais emocionante possível. Ainda não se sabe ao certo a data de estreia da 4ª temporada, mas será em 2016 e poderemos ainda contar com um especial de Natal em 2015.