Novas confirmações no Super Bock Super Rock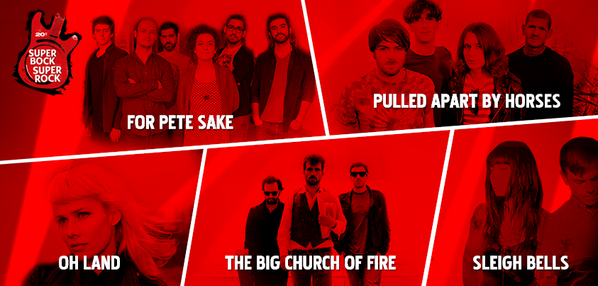 Foram anunciados mais nomes no festival do Meco.
For Pete Sake, Pulled Apart By Horses, Oh Land, The Big Church Of Fire, Sleigh Bells são as cinco novas confirmações do Super Bock Super Rock.
Oh Land e The Big Church of Fire atuam dia 19 de julho e as restantes bandas atuam dia 18 de julho.
Cartaz anunciado até agora:
17 de julho
Massive Attack
Disclosure
Metronomy
Jake Bugg
The Cat Empire
Tame Impala
Erlend Oye
Panda Bear
Vintage Trouble
Dia 18
Eddie Vedder
Cat Power
The Legendary Tigerman
Woodkid
Cults
The Big Church Of Fire
Oh Land
19 de julho
Foals
Kasabian
The Kills
Albert Hammond Jr
Skaters
Dead Combo
C2C
For Pete Sake
Pulled Apart By Horses
Sleigh Bells
Novas confirmações no Super Bock Super Rock
Reviewed by
Watch and Listen
on
maio 07, 2014
Rating: